Biography
"I love colour to compensate for the greyness of Dutch winters."

Visual arts

Photographer Anno van der Heide has lived and worked in Amsterdam since 1979 .
She was born in Sleen (1951), a romantic farmers village in the north of the Netherlands, with a blacksmith, wooden shoe maker, mill, village hall, primary school, football field and in the centre a green for grazing cows and sheep.
In 1974, she started her carreer as an autonomous visual artist following training at the Minerva Academy of Arts in Groningen. Until 1986, she focused on colourful paintings, collages, installations, theatre scenery, cartoons and comics. The abstract painting was usually based on music. In addition, politics was and still is an important scource of inspiration.

Photos and music

At first sight, photography serviced her visual work. Sometimes literally by mixing photos in her collages. Until 1994, when she received her first journalism commissions in Africa, she made photos for theatre and music productions. For example for the new wave band The Clapcats (1981-82), which she had founded with singer Margaritha d' Amore and in which she played keyboards.


Multidisciplinary

From the beginning Anno experimented with a combination of images, sound and text. The installation "The organ player and his dog Fikkie" (1974) consisted of a large oil painting with the portrait of a man, whose polyester hands float above the keyboard of a harmonium. The organ can be played: in the belly of the dog Fikkie there is a vacuum to power the harmonium. The installation is both playful and gloomy: the painted bombers above the reed huts refer to the Vietnam War.
In Groningen her studio was above the studio of musician and composer Harry de Wit. The thin-walled warehouse had an inspiring effect; together with Harry de Wit she made a composition of factory noise, piano strings, saxophones, polystyrene, metal sheets and percussion instruments. She processed these sound tapes in an installation about the pollution in the Eemsmond region and in a performance with fire and sound (1984) in the Meervaart theatre in Amsterdam.

Image manipulation

In 1988, Anno started to study at the first Dutch school for computer animation and image manipulation. Where the latter was concerned, it turned that she was far ahead of her time in the Netherlands. The Dutch Art Fund refused her work with the remark that computer-edited drawings were beyond the scope of art. And especially not manipulated photographs, because photography did not belong to the arts at all. It was only a technique. On the old Amiga computer without a harddisk it was possible to make a cartoon film lasting a few seconds. Making a slightly longer animated cartoon amounted to programming. Anno thought this was far too technical, still hated to sit behind a computer and changed discipline. Again she chose photography as subsidiary subject and nd in 1992 she graduated as a director and scriptwriter for non-fiction film.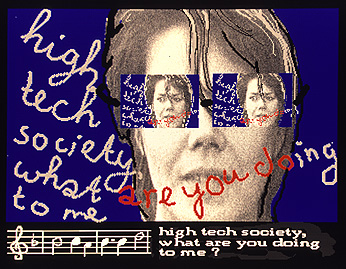 Non-fiction

"I think film and photography are pre-eminently media for recording reality," she comments. "And that is often very unpredictable and strange." From her painter's background, playing with images and colour was natural. Anno wrote her thesis paper on the ethics of image manipulation in photography and documentary films. In her opinion, you can utilise image manipulations very well, if functional and clearly visible for the spectator, so the credibility of the reality does not become affected.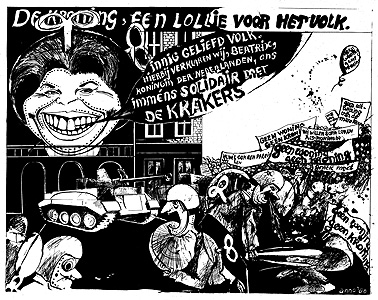 Image manipulation in documentaries and non-fiction films

She made several commissioned films about handicapped persons, in which she expiremented with the visual possibilities of video editing. In her first short film, she let a young handicapped woman drive a wheelchair through Amsterdam. When the woman encountered an obstacle, a drawned wall repeatedly appeared. This was in 1990, Anno made a comparison with the obstructions that thwarts wheelchair users and the fall of the Berlin Wall. She let a group wheelchair users drive from East to West Berlin through the first holes in the Wall. The East Berlin vopos found this outrageous because handicapped people were hidden away in former East Germany. For another commissioned film, Anno wrote the music that was performed by the band What Fun! well known for their number 1 hit The right side won. In 1992 she won two prizes from the Dutch broadcasting company IKON and the local Groningen TV company OOG, with documentary screenplays in which she used image manipulation. However, documentary producers then did generally not like final editing on video. Moreover, one scenario started with a cartoon film. Nowadays nearly every documentary maker edits his films on video and nobody in the world of documentaries is surprised by a short animated cartoon: beautiful, completely animated documentary films appear at festivals.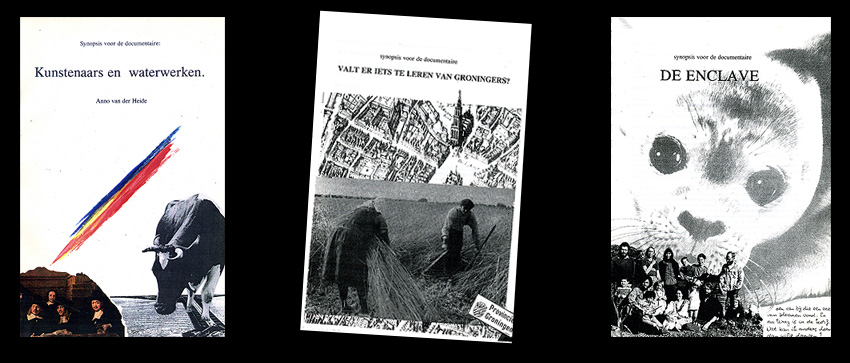 Journalism

In the meantime, she did not stand still. It was a small step from documentary scenarios to journalism and in 1993 she started to write interviews for popular magazines. Her first report "The Polish bride" became a co-production with author Annejet van der Zijl, then editor at the Dutch weekly HP/De Tijd. "You write in the style of a film scenario," the editor laughingly commented. Annejet rewrote the "script" into a running magazine story.
In 1994, there followed a commission for a travel guide about Kenya, Tanzania and Uganda. Anno thought it was incomprehensible that the press reported absolutely nothing about the fate of the many thousands of Hutus and Tutsis, who had escaped from the civil war. In Burundi and Tanzania she visited the Burundian refugee camps. The report on this was the first of a series of articles from abroad, with most of the photos being created by herself.
She worked mainly as a freelance journalist for ten years. "It is the same for me in which technique I work, "Anno says, "It's the things I want to express that matter. " Anno loves the freedom of journalism abroad and sees a clear connection between her social reports and former social/critical drawings. She always stays abroad for a long time in order to make autonomous photos.


Photography

While travelling she discovered the power of the photography; making photos became still more important for her. In 2001, she had a series of subsidised exhibitions with a survey of her African photos and since 2008 she concentrates full-time at the photography. In that year she produced an extensive photo series of Semana Santa in Sevilla and the de Feria de Abril, the April parties.People are her central theme, or signs of people, like archeology, the bicycle of a homeless person or an umbrella left behind. And although she was already engaged with image manipulation in 1988, she chooses the unaffected form of the documentary photography.



Painting with the camera

With these she again steers a course which in 2009 is the opposite of the current view about art photography: staged, subtlely spotlighted and usually with edited photos, with compositions falling back on the old masters of the art world. Anno makes characteristic compositions and records reality full of dust, scratches, sloping horizons, hands suddenly appearing in the image and usually without making a cut out of the shootings. This often leads to a picturesque roughness.
Meanwhile, it is not inconceivable that in future she will once more combine various techniques. In certain recent portraits the scratches of a drawing pen are clearly visible…
© Sheila Böhmer, artcritic, February 2009.


Curriculum

Education
1969-1974 Academy of Arts Minerva, Groningen, Holland. Specialization painting, scenery and drawing comics.
1988 Academy of Arts (HKU), Utrecht, Holland. Discipline Image and Media Technology, for image manipulation and computer animation.
1989-1992 Academy of Arts (HKU), Hilversum, Holland. Discipline Audiovisual Media. Specialization directing and scriptwriting for documentary films.
1998-2000 Educational Faculty (EFA), Amsterdam. Shortened study teaching degree for drawing and arts.

Courses
2004 Graphic Media Institute, Amsterdam. Courses Photoshop.
1999 SKVR, Rotterdam. Didactics for audio-visual teachers.
1992 and 1993 chool for Journalism, Utrecht. Post-Higher Vocational Education Journalism.
1989 International Documentary Festival (IDFA), Amsterdam, Holland. Scenario-workshop by the Russian scenario-writer Igor Itskov.
1987 VILM, Amsterdam, preparatory training year for the Conservatory in Hilversum, jazz and popular music.
Others
Member of the NBF (Dutch Federation of Photojournalists), KCB (Artists Centre Bergen) and Pictoright Foundation


Photo exhibitions since 2001

Solo exhibitions


2019: Blues and Poetry, installation with sound. SchoK, Schoorl
2017: Mister Rabbit and Lady Snow, a three-dimensional cartoon with a radio play. SchoK, Schoorl
2016, 2013: Open Studio, Tuitjenhorn
2015: Dyke Tourism, cartoonish installation with photomontage on the beach. SchoK, Schoorl
2014: The Beauty of the Deteriorate and Mister Rabbit 1. Two installations with drawings. SchoK, Schoorl
2012: Timeless People, photo-installation with computer rubbish. SchoK, Schoorl
2011: Drawings, paintings and photos, Cinétol, Amsterdam
2009: Open Studio De Pijp, Amsterdam
2009: Keep on Rocking! Train station Naarden - Bussum
2005:
Africa in the Picture, Rialto, Amsterdam.
2003: African Portraits, multicultural centre RASA, Utrecht.
2001: Travelling in Africa, Spaarnestad FotoArchief, Haarlem
2001: Water, source of life, in the tunnel of the Oosterschelde dam in Zealand, Holland.
This large exhibition on this special location lasted for half a year.
2001: Asante Africa, Ethological Museum, Nijmegen
2001: Asante Africa, Ethological Museum Gerardus van der Leeuw, Groningen.

The exhibitions in 2001 about people in East and West Africa were sponsored by KODAK and subsidized by the NCDO (National Committee for International Cooperation and Sustainable Development), Mama Cash, the Culture Department of the Dutch province of Zealand and Spaarnestad Photo Archive.


Group exhibitions
2018: Mankind. Museum Kranenburgh, KCB Bergen
2018: Art Present. Museum Kranenburgh, KCB Bergen
2017: Art Route Zijpe, Callantsoog
2017: Autonomous, KCB Jubilee Exhibition. Museum Kranenburgh, Bergen
2016: The Rising Water, a short film. North-Holland Biennale. Museum Kranenburgh, KCB
2016: Contrasts, Museum Kranenburgh, KCB
2015: Displacement. Exhibition and book of 10 photographers and 11 poets, SchoK, Schoorl
2013: Art Route Zijpe. Photos and courses in Church Burgerburg
2011: In Person. Off Photo Festival Naarden, Gallery Josephine
2011: Fashion and Arts fot Charity, A A A Amsterdam
2010: Next to the skin, Academy of Photography Amsterdam
2010: Winter in Amsterdam, Gallery Eduard Planting Fine Art Photographs, Amsterdam
2009: Affordable Art Fair, Amsterdam. Gallery Eduard Planting Fine Art Photographs
2009: Kids these Days. Gallery Eduard Planting Fine Art Photographs. With a.o. Rineke Dijkstra, Reinier Gerritsen, Ann Leibowitz, Diane Arbus.
2009: Open Art Fair Utrecht. Gallery Eduard Planting Fine Art Photographs
2009: Holland. ABC Treehouse Gallery, Amsterdam
2009: Het Nederland van de fotografenavond ABC Treehouse Gallery, Amsterdam
2007: Open studio De Pijp, Amsterdam
2007: Whatever the weather, ABC Treehouse Gallery, Amsterdam
2006: Music in the air, ABC Treehouse Gallery.
2005: One day in Amsterdam, ABC Treehouse Gallery.
2004: Water, ABC Treehouse Gallery.
2003: Tulip photo, ABC Treehouse Gallery.
2003: Focus on photography, galerie Kessel, Laren.
2003: Power of life, VU-ziekenhuis, Amsterdam.
2003: Idem, Radboudziekenhuis, Nijmegen
2002: Stronger after cancer, ABC Treehouse Gallery.
2002: Photographers Evening Exhibition, ABCTreehouse Gallery.

Exhibitions between 1977 and 1985:
paintings, drawings, collages, three-dimensional objects and video



Solo exhibitions
1985: Gallery North Holland House, Alkmaar
1984: Artotheek Osdorp, Amsterdam. With a fire and sound performance in theatre De Meervaart. For this purpose she made together with musician Harry de Wit a composition of factory noises, piano strings, saxophones, polystyrene, metal sheets and percussion instruments.
1981: Containerkunst, Galerie Warmoesstraat 139, Amsterdam.
1979: Anno Exposeert, Shaffy Theater Amsterdam.
1977: Entrance-hall GEB-building, Groningen.


Group exhibitions
1985: Videoart, ergen Art Foundation, Bergen, Holland.
1985: Zelfbeeldend, Warehouse De Schottenburch, Amsterdam.
1982: Artists against fascism, Februari Collective, Amsterdam.
1982: Female artists against nuclear weapons, University of Amsterdam.
1981: Kitsch uit de Kunst, de Meervaart, Amsterdam
1980: Boa-Trix, Galerie Warmoesstraat 139, Amsterdam
1978: Exhibition Eemsmond, traveling exhibitions about the pollution in the Eemsmond region, several locations in Holland, Germany.


Commissions and publications between 1973 en 1985
Theatre sceneries Waark, play about East-Groningen strawboard industry, direction Annemarie Prins (1973) and Micho's hoop of droom, about Antilleans in Holland, direction Ricardo Anagasti (1977).
Illustrations, for magazines such as Vinyl, Man, the Soldiers Magazine.
Publications, f.i. in the book Peace, an art, editor Sjaloom, Utrecht, Holland.
Comics, f.i. for Female artists against nuclear weapons.


Commissions photography and journalism for Dutch magazines and newspapers from 1993 until today
Social reports, arts, traveling, developing countries.
2013: Local Council Schagen. Photos for the entrance signs of the village Tuitjenhorn and hamlet Kerkbuurt
2012: KM (Artists Materials), report about Tatoo Museum, Amsterdam
2011: De Volkskrant, photo report with text about qat in Jemen
2008:
Algemeen Dagblad: Text and photos Weekend Seville.
2005 / 2007: Het Parool: Photo reports Rockers and Keti Koti.
2007: De Pers: Interview and photo portrait.
2005 to 2006: Straatjournaal: magazine for homeless persons. Editor, articles and photos.
2000 / 2004: Contrast, multi-cultural magazine. Articles with photos among others things about Suriname.
1999 to 2003: AD/Magazine: Double- interviews with well-known Dutch people for the section 'Friendship.' Articles about Suriname.
1998 to 2003: Onze Wereld, magazine of the development organization Novib: Articles and interviews about arts and film.
1994 to 2004: Vice Versa, magazine of the Dutch development organization SNV: Reports and photos. For example about Aids in Uganda, tourism policy in Tanzania, the combination between traditional and modern medical science in Africa, circumcisions, conflict-prevention in developing countries, town planning in Addis Abeba, education, arts and development cooperation. Series of reports about developing projects in Guinea-Bissau.
1996 to 2000: Vice Versa, Member of the editorial staff, specialist Africa.
1999: De Journalist: magazine of the Dutch trade union for journalists NVJ. Article about speech-systems for computers.
1998: Win-Win, Articles about architecture and constructing projects.
1993 to 1998: HP/De Tijd: HP/De Tijd: Double- interviews with artists, authors, actors, filmmakers for the section Relatives. Article about Shell in Nigeria as a result of the execution of the author Ken Saro Wiwa; The Polish Bride (co-production with Annejet van der Zijl) and Women's Coast, a report with photos about female sex tourism in The Gambia.
1994 to 1995: ANWB: Writing and photographing a guidebook about East- Africa. (210 pages)
1994: De Groene Amsterdammer: Report on the refugee camps in Tanzania of the Burundian Hutus and ethnic mixed Hutu-Tutsi's.

For more information about these articles: see the website of the NVJ. Link: www.defreelancejournalist.nl
Longer trips/ residence abroad

2008: Seville, Spain. Photographer in Residence.
2001: Callosa D'Ensaría, Spain. Artist in Residence, Fundación Cultural Knecht-Drenth.
2000: Suriname, Paramaribo. Guest teacher, Academy of Arts (AHKCO), commissions AD/Magazine and Contrast.
1999: The Gambia Report female sex tourism, HP/De Tijd.
1998: Guinea-Bissau and The Gambia (Africa). Photos and articles Vice Versa.
1994: Kenya, Tanzania, and Uganda (Africa). Writing and photographing a guidebook for the ANWB.
1983: Ivory Coast, Mali, Gambia, and Senegal (Africa)
1972: Kenya, Tanzania, and Uganda (Africa).
Film
Direction, writing scenarios and research for non-fiction films and television programs.
2001: TV-Dits, Elaborate and research synopsis "Het grote geluk."
1993: IKON en Groningse omroep OOG, Prize for two scenarios about the province of Groningen.
1993: Socutera, Scenario and direction AVO film, a charity film for the Dutch television about disabled people. Interview with handicapped singer.
1992: Research, find and supervise the walk-ons for the film "The man in the window", directed by Saskia Vredeveld.
1991: Socutera, Scenario and direction AVO film. With the Rock and Rollstoel (Wheelchair) Band.
1991: AVO, Scenario and direction for the information film 'Handicapped and also living a normal life.' (20 minutes).
1990: Socutera, Scenario and direction AVO film. Comparison with the fall of the Berlin Wall and the obstructions disabled people thwart in their daily life.
1990: VARA televisie, Research, production and redaction for the documentary program Impact.
Books
1995: Guidebook East -Africa (Kenya, Tanzania, Uganda).
Editor Royal Dutch Tourist Federation ANWB, The Hague.
ISBN: 90-18-00473-1
1974: Comic book Jetje, a story for scatterbrains.
Editor Xeno, Groningen. ISBN: 90-6208-007-3
Art teacher
2017 until now: Culture coach Museum Kranenburgh: classes photography and drawing cartoons at primary schools in Bergen
2017: Photography along the Beach, Callantsoog
2015: Workshop Creative Writing, Studio 37 Haarlem
2013-2011: De Blauwe Schuit, Art Centre, Hoorn. Drawing Cartoons
2010: Street Photography and Photoshop, for the female photographers of the Women Photo Studio, Sana'a, Jemen
2002- 2003: Teacher in Arts, Sancta Maria Lyceum, Haarlem.
2000-2001: Courses drawing cartoons, drawing and painting for children. De Meerse, Cultural Centre Hoofddorp.
2000: Guest teacher in Arts, Paramaribo (Suriname) at the Academy of Arts (AHKCO).